Our Austin Veterinarians Provide Experienced Care

If you're looking for an experienced veterinarian in Austin and Pflugerville, look no further than Dessau Veterinary Clinic. Our two veterinarians, Dr. Kellee Campbell, DVM and Dr. Susan Waage, both love pets and want to provide the best possible care so you can enjoy the greatest amount of time with your beloved family member. We proudly care for the pets of North Austin and the surrounding communities, and are happy to work with pet owners to answer pet questions and educate them about home pet care topics.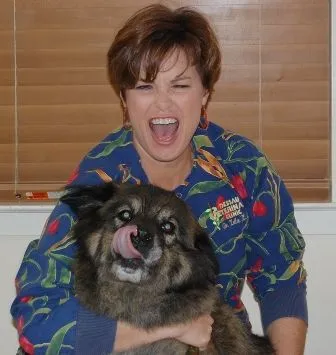 Dr. Kellee Campbell, DVM with "Speed Bump" - Argh! She just slimed me!
Dr. Campbell became a veterinarian in Austin when she founded Dessau Veterinary Clinic in 1986. Her goal then, as it remains today, is to help pet owners take great care of their pets. She sets the tone for our animal hospital, and sees to it that we provide the most compassionate veterinary services available in the North Austin area. She insures that our clinic has the latest technology, such as an intensive care unit and radiology facilities to help in the diagnostic process. Dr. Campbell also knows that pet owners don't have a lot of time to be running around to get pet care, so she included an in-house lab and pharmacy and an online pharmacy in our animal clinic's services.
An acknowledged soft touch when it comes to pets in Pflugerville, Dr. Campbell took in "Speed Bump" and "Road Rash" when they were abandoned several years ago. Road Rash was able to be adopted to a loving home, but Speed Bump proved so adept at clearing fences that she forced the doctor to build eight-foot fences and keep her as a guard dog and house jester.
---
North Austin Veterinarians Who Go Above and Beyond

Dr Trina Breaux
Originally from Lake Charles, LA and graduated from LSU School of Veterinary Medicine in 2005. After graduating, I worked at a small animal practice in Las Vegas for 2 1/2 years, but then decided to move to Austin to get closer to home. I have lived in the Austin area for 11 years doing veterinary relief work for most of those years. I have an interest in dentistry, dermatology, and preventative care. In my free time I enjoy spending time with my two young children, working out, dancing, and traveling.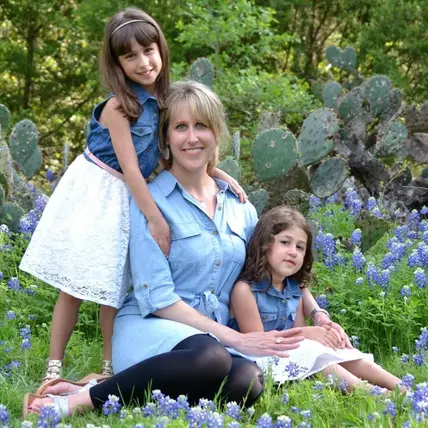 Our team works to provide pet care for dogs and cats in North Austin and beyond. They make sure we operate as an open hospital so pet owners can be with their pets during vaccinations and examinations. This soothes both the pet owner and the pet, and allows the doctor to answer any questions the pet owner may have.
Our North Austin veterinarians also supervise our pet boarding and pet grooming facilities to assure pet owners that their pets are well-cared for in every aspect of our clinic. If our grooming or boarding team notices any unusual symptoms or behaviors in a pet under our care, one of our vets is notified immediately so we can decide if any further actions are necessary.
When you need a veterinarian in Austin come to Dessau Veterinary Clinic, where we believe "Gentle handling makes the difference."
Call us at (512) 339-3177 to make an appointment with one of our veterinarians.