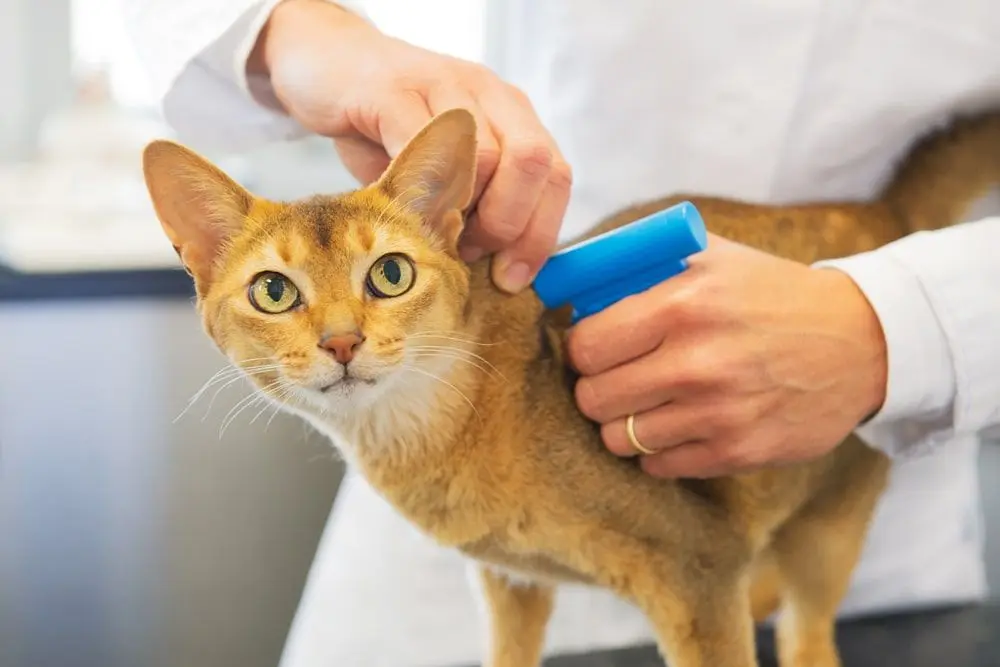 Pet microchips are rice-sized, electronic chips activated by special scanning devices when such a device is passed over the microchip. Data transmitted to a scanner by a pet microchip includes a unique number contained in a database of other microchip numbers. Retrieving this number from the database allows your Austin veterinarian to immediately access contact information of the pet's owner (phone numbers, addresses). Dog microchipping and cat microchipping simplifies the process of reuniting lost pets with their owners.
What are the Benefits of Microchipping My Pet?
In addition to making it much easier for shelters to identify lost pets, microchipping is permanent. Comprised of bio-friendly materials that are naturally "accepted" by your pet's body, microchips can't slip off like collars. Nor can they be easily removed. Only your Austin veterinarian can remove a microchip. All pet owners have to do is update contact information when necessary. This is done by calling your vet or the number found on a microchip's activation card.
How is a Microchip Implanted?
A dog microchipping or cat microchipping procedure involves your veterinarian injecting the chip just under your pet's skin using a small needle. It only takes a few seconds for your pet to be permanently identified by a nationwide database.
Will Microchipping Hurt My Pet?
Microchipping doesn't cause any discomfort beyond the minimal sting of a vaccination. No anesthetic is required. In fact, most pets don't even realize they have had a microchip implanted. Also, all microchips for pets come in preloaded, sterile applicators so there is no risk of infection.
Does a U.S. Microchip Work If I Travel Overseas with My Pet?
Although Europe uses a different kilohertz in their pet microchips, some scanners can identify all types of microchips (128, 125 and 134.2 kilohertz chips). You might consider having a European microchip implanted if you plan on taking a lengthy vacation overseas.
What If I Adopt a Pet That is Already Microchipped?
Contact the corresponding registry if your vet can identify the brand of the microchip to update contact information. If the brand of the microchip is unknown, your local animal shelter or Austin veterinarian may be able to use their scanner to read the chip.
When Should I Visit an Austin Veterinarian for Microchipping?
You can safely microchip pets that are at least four weeks old and weight over one pound. Your Austin veterinarian can also microchip pets during spaying or neutering surgery. Your vet would be more than happy to talk to you about any concerns you have about the dog microchipping or cat microchipping procedure.
Schedule an Appointment with Your Dessau Veterinarian
Microchipping is a great way to ensure you and your pet never have to spend long days apart from each other. To schedule an appointment to have your pet microchipped, please call Dessau Veterinary Clinic today at (512) 339-3177.