Parasite Control Is Vital to Pet Health
Owning a pet brings happiness and joy to many. The companionship and love an animal provides more than compensates for the responsibility. There are, however, some types of "love" that are not so desirable. When pests and parasites find a comfortable home in or on your pet, it's time to take action! Unfortunately, parasitic infections are all too common. Dessau Vet Clinic in Austin helps pet owners control the internal and external parasites that can make life miserable and threaten the health of both pets and their owners. Our veterinary team, led by Dr. Kellee Campbell and Dr. Trina Breaux, helps owners manage common pests like ear mites and fleas, in addition to serious internal parasites, including giardia, coccidia, mosquito-borne heartworms, and other intestinal worms.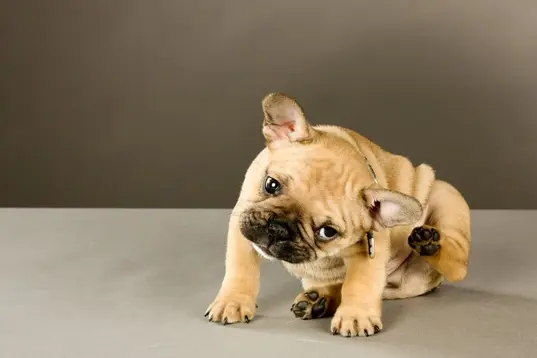 Parasite Prevention and Treatment
Our staff understands that pet owners want healthy animals, so we recommend preventive treatment, including flea collars and heartworm medication, whenever possible. We also suggest that you arm yourself with knowledge. We can help. In our area, pets who go outdoors will routinely encounter fleas, ticks, and mosquitos.
Even a trip to the dog park or the lake shore poses concerns. Pests and parasites can move quickly from one animal to another, even through casual contact, and feces left in the environment are a breeding ground for worms. Some parasites can also be transferred to humans. Being diligent about cleaning up after animals, even in your own backyard, is a good first step to keeping your pets safe, but there are other habits to cultivate as well:
Feed animals cooked or prepared food, never raw meat;
Always clean up after your pets and dispose of feces properly;
Minimize exposure to other animals;
Check your pets after an outing;
Seek the advice of a professional veterinarian;
Schedule regular veterinary checkups for your pets.
Ways to Deal with Parasites
Even though it's virtually impossible to totally eliminate the risk, there are simple precautions that can minimize that risk.
Pay attention to your pet's behavior, particularly itching, scratching, appetite, behavior, and physical appearance. Any change in temperament or energy level should be discussed with your veterinarian. Watchfulness combined with periodic examinations is the best way to keep a pet healthy and active throughout its life.
Your companion's health and wellbeing is your responsibility, but our caring team stands ready to assist with year-round advice and ongoing care and treatment.
Our goal is to help foster a healthy, active, loving relationship and a long life for every pet in our extended family.
Schedule an Appointment
If you're new to Austin, we would love to get to know you. Contact us now with your questions and concerns. Our full-service veterinary clinic and pet hospital serves pet owners throughout North Austin and Pflugerville.