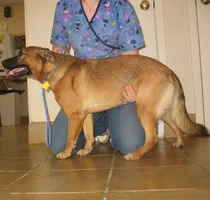 Just a quick "thank you" note for seeing Raine on such short notice...but an even bigger thank you for the DAP collar you recommended. Although all the literature indicated that it might take up to two weeks for the DAP collar to work, a lot of the literature said it can start working much sooner. Although I just put the collar on Raine yesterday, she is remarkably calm today--I had furniture delivered, and the deliverymen were just a big deal to her at all (that's a first)! Even more, Raine hasn't been frantically barking at the neighbor kids next door at all today, nor has she chased the cat... I wouldn't have thought the DAP collar would impact the cat at all, but she's now walking around the house calmly--no mad dashing to "beat" Raine. Yeah!

Thanks again!
Angela Schreiber
---
Dr. Campbell and Staff-
I have known since Peter was a puppy that he would have special needs in his life. He was always just a little sick, not to mention a handful when visiting a vet clinic. When I moved to Austin you took Peter on without hesitation, knowing his history and behavior. I don't know what we would have done without you the past several years. You have been patient, compassionate and honest. I believe you always knew he was the biggest part of my life.
When Peter was diagnosed terminal cancer you did everything possible to keep us together as long as possible. I will always be indebted to you for that. The last several months have meant everything to me. I know I would have lost him much earlier without your help. I believe you are an angel. You truly took care of my boy as if he were your own. I could thank you every day for the rest of my life and it would still not be enough. I couldn't have survived this horrible time without you. You are truly the best.
Heather Barclay